Do LED Lighted Bathroom Mirrors Fit For Your Home?
Bathroom mirrors are an important part of bathroom.There are a lot of lessons to acquire about keeping harmony of the general bathroom style, ensuring the security of electric in bathroom and even personal privacy protection is very important. Nowadays, the style of the bathroom mirror vary from one to another. Square or oval, grinding edge or mirror carved, have been exquisite and practical to our bathroom decroation and daily use.Along with bathroom cabinet ,the bath mirrors do play the important role as we start a day from standing before it and finish one day perfectly here too …  So How can we decide which bathroom mirrors we buy is practical and safe?
With the development of  society, bathroom mirror products continue to evolve,and it greatly promotes the development of bathroom mirror products, but also reaching the first paragraph of innovation. Dimo LED lighted bathroom mirror, equipped with waterproof and defogger, time temperature display and other functions, has a strong service meaning.And its quality is also better than the other general miscellaneous brand of bathroom mirrors, which consumers can rest assured to use.
Dimo LED lighted bathroom mirrors are oval, square, round shape generally, and styles include: modern simple fashion, high-end hotel bathroom mirror, the atmosphere quaint club bathroom mirror, mysterious European luxurious bathroom mirror, colorful city fashionable bathroom mirror. Generally oval, round are more suitable for European, Mediterranean style, such as more romantic bathroom environment.The square shape is more suitable for the subtle, American, Chinese and other more generous bathroom atmosphere.And along with different border materials ,they can create provenance or retro or modern or simple feelings.
Dimo LED lighted bathroom mirrors ahve functions like, intelligent led bathroom defogger, time display, bluetooth MP3 function and other multi-functions.As for color, there is white, warm white, blue, and even RGB changing.Bathroom mirrors focus on harmony with the entire bathroom environment, to determine the personal preferences, so the color of the mirror frame need to be in accordance with the bathroom walls and other theme colors.For size,we suggest the 500-600mm range (except for the floor bathroom mirror), and thickness suggested in the 5mm-8mm approximately.If the bath mirror is too thin,then it is easy to burst broken.
Material of LED lighted bathroom mirrors
The silver mirror and the aluminum mirror are the two kinds of mirror materials which are the most common at present. Silver mirrors perform better than aluminum mirrors in refraction, and will appear brighter in the same bright light. Moreover,the silver mirrors do better especially in dark bathrooms.But aluminum mirrors' prices are more economical, can meet the basic needs of daily bathroom mirrors.For Special make-up need,we still need the mirror lights.
How to select your superior and practical LED lighted bathroom mirrors?
 1.Tips for judging the quality
When buying a LED lighted bathroom mirror, you can use a distant line object to make reference.From the front, side, and back multi-angle to observe the reflection quality.Good quality mirrors look there are no bubbles, sundries, incomplete, discoloration of the spot, etc., in the mirrors.Even when you move you sight, the linear object will not bend deformation.
2.Better with frame or not?
In terms of ease of use, the frame-free bathroom mirror is better than the framed style, because the bathroom is often in a damp state. Wood, leather and other frame materials which have been used for a long time are easy to change. But from the aesthetic point of view, the frame of the bathroom mirror has the advantage of the mirror.
3.Is the defogger necussary for LED lighted bathroom mirrors?
So how can you get the LED lighted bathroom mirrors to prevent fog? Some people say that the do not touch the water when using the soap,wipe the mirror in dry, and then gently wipe with a dry paper towel off the obvious soap stains, then you can get fog away. Dimo anti-fog bathroom mirrors with fog-proof function, with water resistance, and can be customized to provide convenient and comfortable life for people. High-quality mirrors generally have the basic anti-fogging function, you can buy a heated pad pasted after the bath mirrors (defogger touch power switch better to be in parallel with mirror the front light).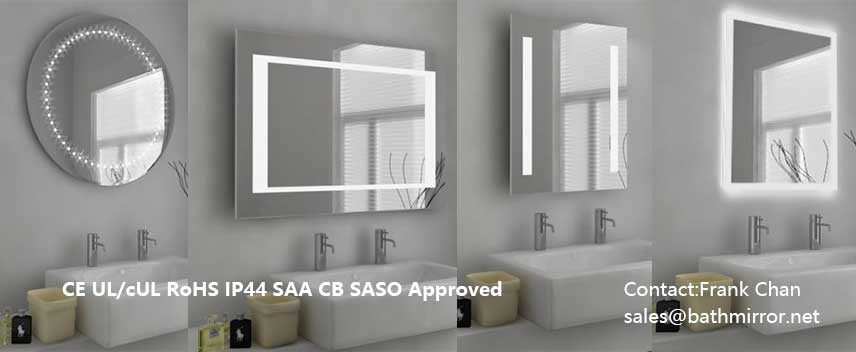 2017-09-12